Being a team player, solving clues, and experiencing synergy on the Gold Coast at RIMPA Live 2023 has been a true highlight of my year in many ways.
It's been a few weeks since the end of this fantastic conference, and I still feel the joy that I felt back then. Not only did I get the opportunity to speak at this conference, but my other major highlight was meeting in person with the fabulous Leadership Through Data team.
I truly believe I 'harnessed success through synergy' (this year's conference theme) as I came together with the Leadership Through Data team to present not one, but three different sessions, as well as being involved in some robust and engaging conversations with colleagues across the information management sector.
First up in the presentation line-up for me was…
The imposter syndrome in me! What is it and can I get over it
Presenters: Andrea McIntosh (myself), Kirrily Traino and Laura Stockwell
In this session, Laura Stockwell, Kirrily Traino, and I headed into the locker room, decked out in our country rugby colours, to discuss the impact imposter syndrome has had on us and the five different types of imposter syndrome.
The five different types of imposter syndrome are:
The expert

The perfectionist

The natural genius

The soloist

The superperson
Each of us discussed the impact of the different types, with me tackling the soloist and superperson types. The stories shared were well supported by knowing smiles and nods in the room as our personal experience resonated with delegates.
Our stories were intimate and intricately interwoven, illustrating the various facets of imposter syndrome and how it can affect individuals in a multitude of ways. Yet, they also revealed the ways in which we can conquer its influence on our lives.
The biggest takeaway from this session is to choose yourself always, I am not the only person who struggles, and neither are you.
Want to know more about Imposter Syndrome – you can check out more information here.
Be informed, involved and compliant with Microsoft 365 and Microsoft Purview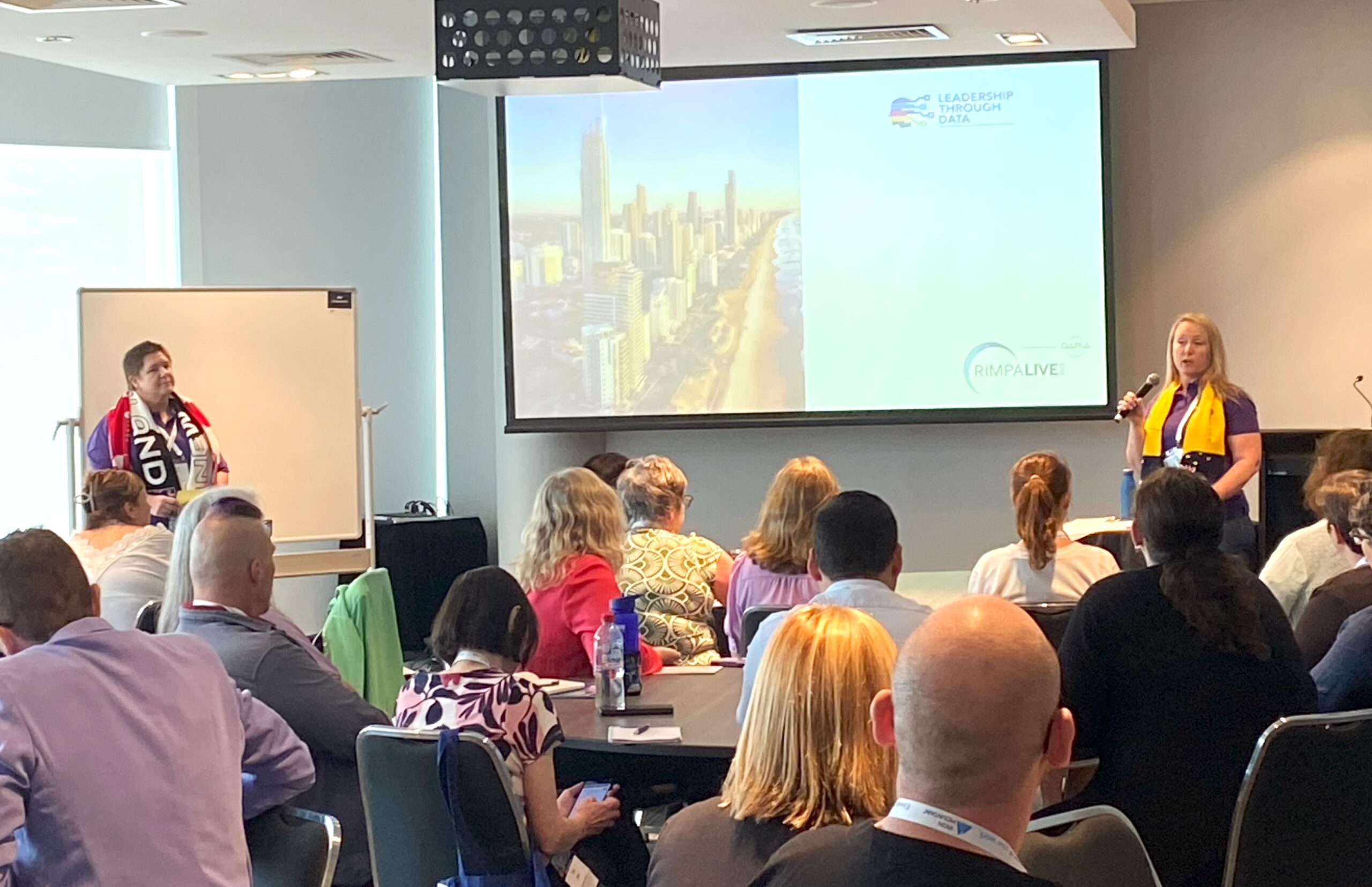 Presenters: Andrea McIntosh (myself) and Chezelle Boevink
For my next session, we switched our t-shirts from rugby to football (or soccer) as Chezelle Boevink, and I worked through the features of Microsoft 365 and purview to govern information.
Why did we stick with a sporting theme I hear you ask? Well, in order to achieve successful governance of information in Microsoft 365, and to navigate the implementation of Microsoft Purview, it takes a team effort and a well thought out game plan.
The presentation led with an outline of the steps in the compliance journey:
Discovery and preparation

Proof of concept

Production preparation

Pilot and production rollout

Operationalisation

Next steps
This scalable and repeatable approach allows all organisations, no matter what size or complexity, to make a start and imbed good governance across the enterprise, in an approach that is fit for purpose, bringing all stakeholders along.
Participants in the session were given a run-through of key aspects of the Microsoft Purview tools:
Sensitivity labels

Data loss prevention policies

Content search

eDiscovery

Priva
All these tools come together nicely to manage both insider and outsider risk and protect the information that we hold and are trusted with.
The key message for participants who joined this session was to start their journey by establishing a robust team, and then to ensure that there's some proper training in place in order to get the best out of their investment in Microsoft 365 compliance.
Governing Teams Data – it's not a Game of Cluedo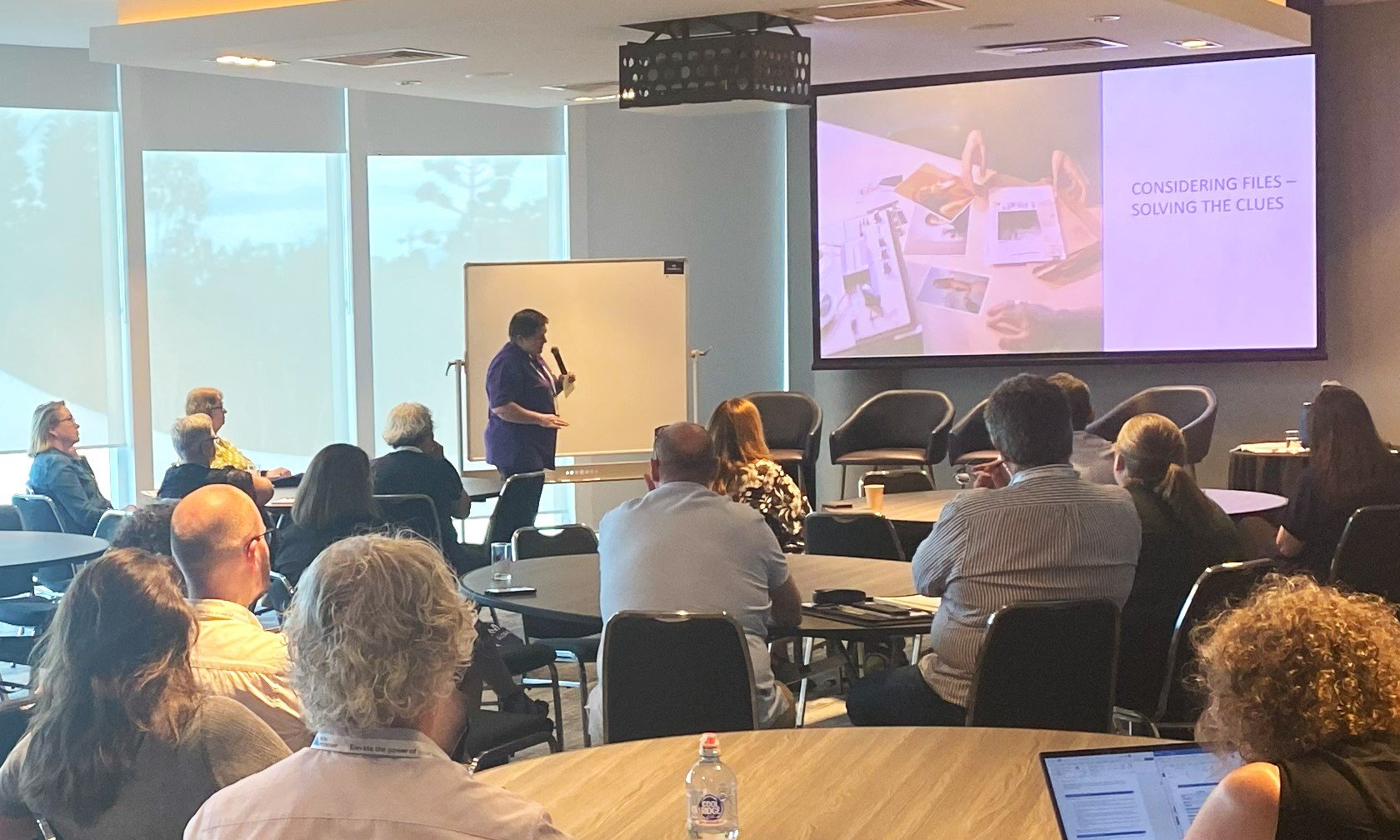 Presenter: Andrea McIntosh (myself)
In my final session, I spoke about the governance of Teams information in more detail. First setting the scene with some background on Microsoft 365, then working through messaging, file management, and lastly collaboration through meetings and calls.
After working through the clues, the participants left with an understanding of where information was stored and, therefore, where effort needed to be placed in the application of retention policies and labels.
Like the previous presentation with Chezelle, the emphasis was on thinking about the information architecture, bringing together the team, and placing efforts in the right place to govern information assets well.
Are you feeling ducky?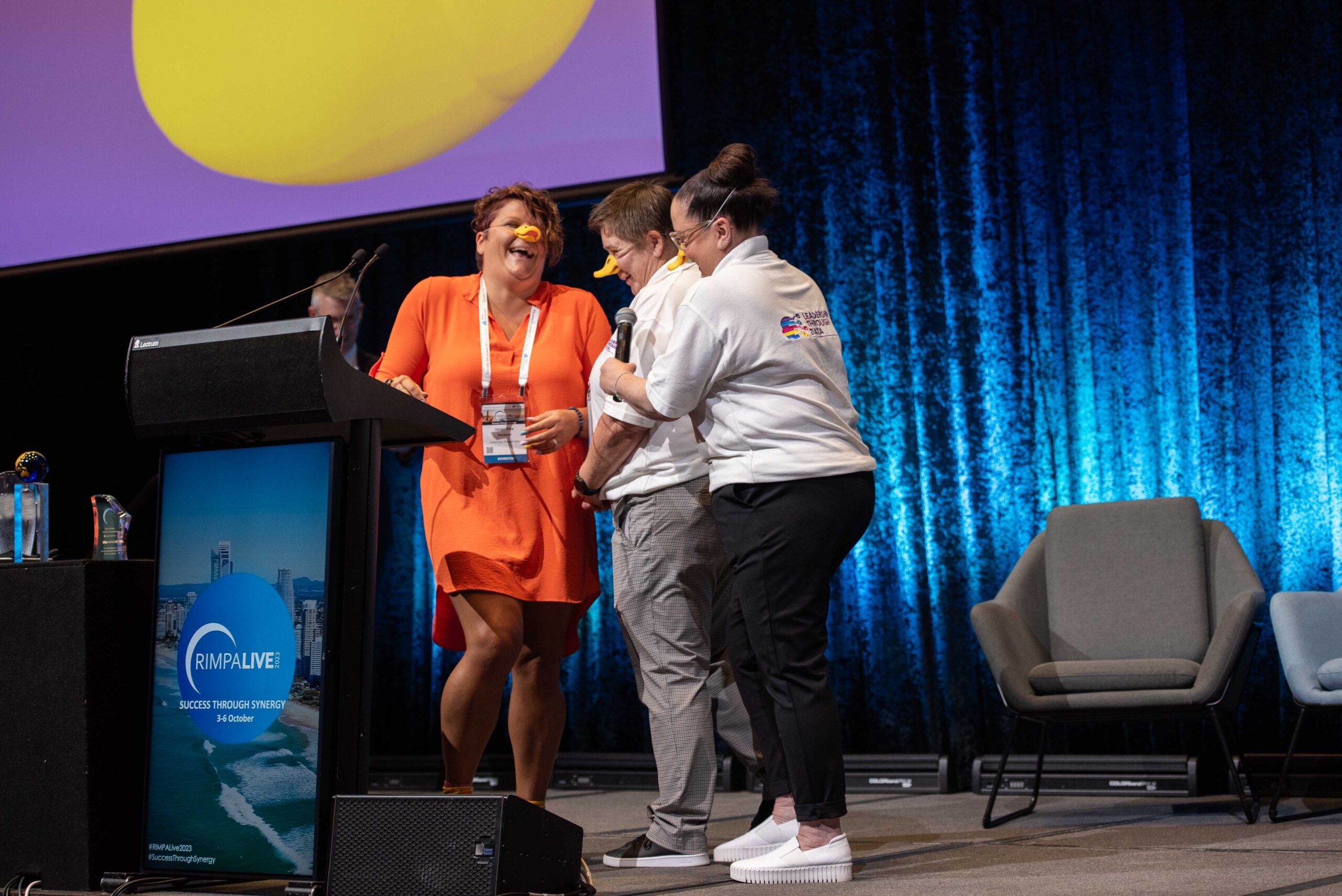 Presenters: Jacqueline Stockwell, Andrea McIntosh (myself) and Narelle Carnovale

Who knew my hidden talent for speaking duck would come into its own during Leadership Through Data's 1-minute vendor pitch? But what is a vendor pitch I hear you ask?
The event directors at RIMPA Live encourage all its partners and vendors to get up onstage and pitch to delegates attending the conference. You're challenged to capture the audience's attention whilst putting your message across in a fun and engaging way, all whilst a 1-minute clock is counting down. A bit tough, but so much fun and naturally, being the wacky people that we are, we chose to wear duck beaks and flap around for a bit. In all seriousness, there was a good reason. We were encouraging the audience to come to our stand and 'hook a duck' to win a prize. Many people did and many people left with prizes as well as a better knowledge of Leadership Through Data as a brand and their training courses and consultancy services.
Key takeaways
So, in keeping with our duck theme, my key takeaways from the conference presentations were: 
Just be a duck. You don't have to be the most perfect, ambitious, or all-knowing duck. Just be a duck (imposter syndrome)

 

You don't have to have all your ducks in a row to start (Microsoft 365 and Purview). Just start.

To get all your ducks in a row, you need to understand how they move around the pond (Governing Teams data)

 
A big thank you to everyone who took the time to come and say 'hi' at the Leadership Through Data stand. Our profession has an amazing level of talent and passion, and I am proud to be part of the flock.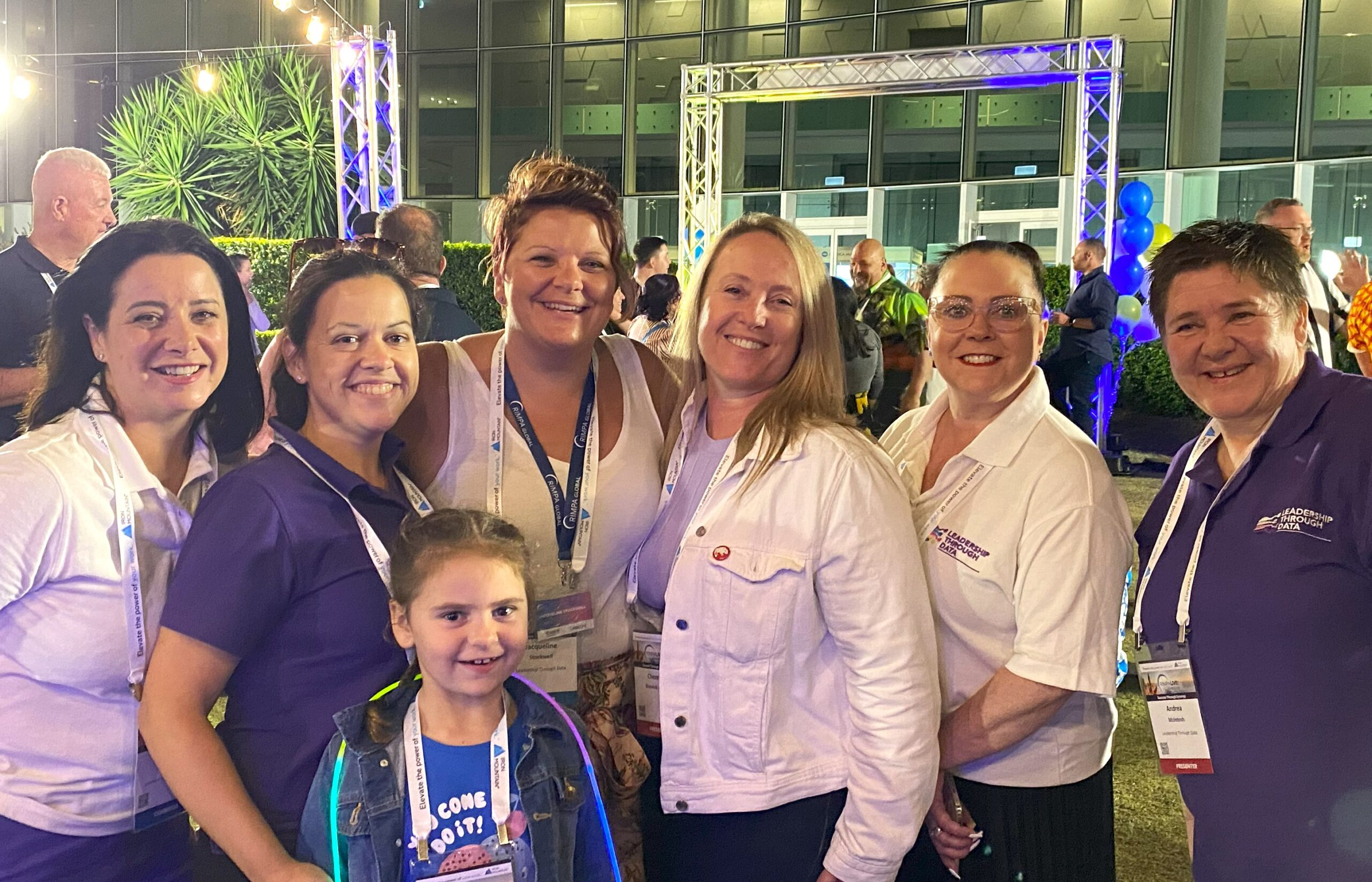 The Leadership Through Data Team! From left: Kirrily Traino, Laura Stockwell, Darcy Stockwell, Jacqueline Stockwell, Chezelle Boevink, Narelle Carnoval, Andrea McIntosh (myself)