On 1 August 2023 Microsoft announced changes to offerings across their Microsoft 365 for Education suite that places limits on storage and retires the Office A1 Plus program. This presents an immediate action that needs to be taken for users with this plan. 
With it likely that other Microsoft 365 plans will follow suit, this article will help you to understand a bit more about the changes and information on where you can seek further help and guidance.
Why is Microsoft doing this?
Digital storage presents a big challenge to Cloud service providers including Microsoft. The ever-growing volume of data retained in cloud storage is having unwanted impacts, such as:
The environmental impact of unused or 'dark' data is

estimated

to be generating up to 4% of global greenhouse gas emissions.

Unused data and accounts pose a significant security risk, with the education sector disproportionately impacted in current attacks.
Education organisations are first to see changes to storage licensing in Microsoft 365 against this backdrop. Though it seems sensible to assume that other Microsoft 365 plans will follow suit. Especially considering the wide-reaching impact of the issues alongside the ever-increasing technical integration between the Microsoft 365 products and services within the suite.
Microsoft also announced the changes to how it will allocate storage to Education establishments within Microsoft 365.
In announcing the changes Microsoft revealed that only 0.04% of all organisations using education licencing use their current storage allocation. Thus, these changes should not have an immediate impact, though their longer-term effects should not be discounted as data volume continues to grow exponentially.
Another startling statistic included in the announcement is that the education is the target of nearly 80% of the global reported malware attacks! (see Cyberthreats, viruses, and malware – Microsoft Security Intelligence for more details). Given the education plans include the key data governance and protection features, there is scope to reduce this without the need for additional investment within educational establishments.
The below shows the Microsoft 365 for Education Subscription Comparison.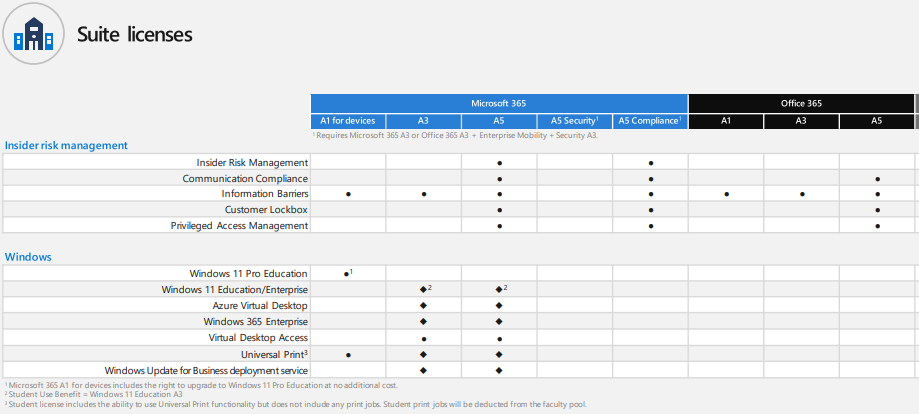 Currently, storage is assigned differently per product. Whilst the exact capacity is determined by the licensing mix within an organisation, in general:
Exchange mailboxes the storage limit is per user with the capacity being determined by the licence, starting at 50GB and increasing to 100GB per user.

 

OneDrive includes min 1TB per user, increasing to 5TB and with the ability to expand upon a service request.

 

SharePoint storage is based on a base amount per tenant (1TB) with an additional 10GB per licensed user

 
When will these changes start?
The changes will start in Feb 2024 with changes to A1 licences and upon contract renewals which take place after August 2024 for other plans. 
Changes to A1 licences include the withdrawal of the Office 365 A1 Plus program. This service provided a free desktop apps subscription for schools. Microsoft have provided guidance for IT admins to help prepare for this change. 
Also effective from Feb 2024, users with the free Office 365 A1 plans will be limited to 100GB of OneDrive storage which will count towards the total combined storage capacity of the organisation. A1 users will continue to have 50GB limit for the mailbox, plus 50GB limit for their archive mailbox. 
For Office 365 and Microsoft 365 A3 and A5 plans from renewal post August 2024 each organisation will be allocated: 
A combined starting capacity of 100TB storage across SharePoint, OneDrive & Exchange

An additional 50GB capacity per paid A3 licence

An additional 100GB capacity per paid A5 licence

No additional storage for free A1 licences

Additional storage capacity can be purchased to add to the total capacity
Here's how you can prepare for the change
To help IT Admins prepare for the change Microsoft are releasing a new Storage report in the usage reports available in the Microsoft 365 Admin Center and have also released a guide for IT Admins to help prepare for the change. 
Need some extra guidance?
At Leadership Through Data, we can offer support in the form of consultancy or upskilling through our courses as you look to adapt to these changes and adopt the security & governance controls included in your Microsoft 365 subscription to help you adapt to this change and improve your overall security & compliance posture.
If you'd like to chat through your concerns about the changes, our team member Sharon is on hand to help guide you in the right direction. Here's how you can get hold of her.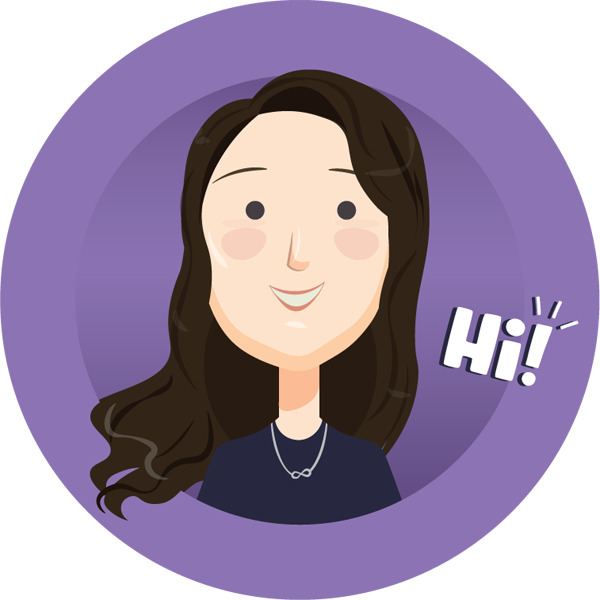 Sharon Urling-Brown
✉️ [email protected]
☎️ Use any of the numbers at the bottom of this page to get hold of me
🌐 Connect with me on LinkedIn