Introduction
Keeping up to date on the Microsoft Cloud can be a daunting challenge. The Ketchup workshop brought to you by the Leadership Through Data training team and Microsoft MVP, Sara Fennah, is here to help.
We get our information from the following sources:
Microsoft 365 Admin Center – Messages

Microsoft 365 Roadmap

website

Tech Community

blogs

Microsoft Learn

documentation

Microsoft News

stories

Conference Book of News (where conferences have been held by Microsoft in the period)
Roadmap Statistics
We rely heavily on the M365 roadmap for our Ketchup and our stats were taken at 9am (BST) on Monday 3rd July 2023 when there were 1541 items listed covering all types of cloud incl government and 1308 for the worldwide cloud.  You can access this at any time yourself via https://www.microsoft.com/en-gb/microsoft-365/roadmap?filters=   
Please remember that the Microsoft Cloud changes daily and the exact availability date of features in each Microsoft 365 tenant can vary. 
Let's 'Ketchup' with some stats since last time. Since our last Ketchup in April 2023, 260 items have been added to the Roadmap and 210 items have launched or started rolling out and 407 features are in development and due by end of October 2023.  There is still a strong focus on Microsoft Teams, but also a good investment in the compliance space too. These numbers are based on the 1308 items on the roadmap which are not specific to Government (GCC, GCC High, DOD) or Education clouds. 
Looking back – April to June 2023
Out of the 210 items launched or started rolling out since April we have chosen these items to show the changes.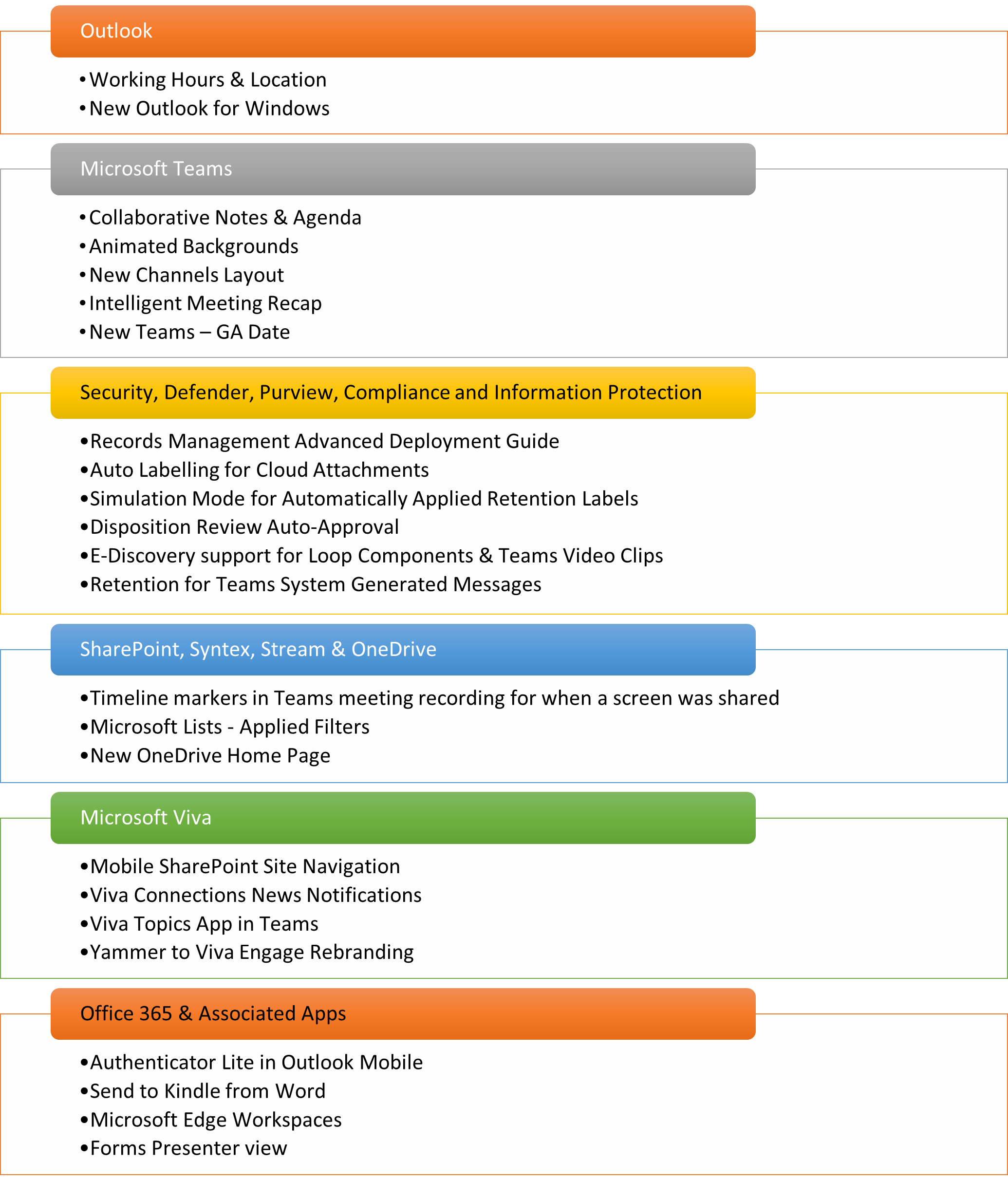 Outlook
Working Hours & Location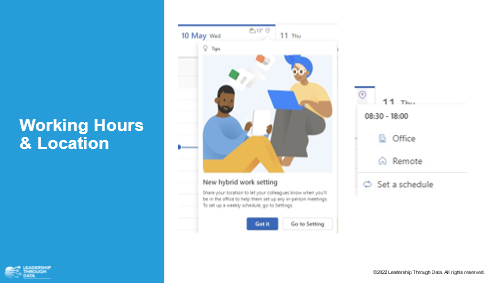 Now in the New Outlook for Windows and Outlook for web is the hybrid work setting.  You'll notice a plus in a location pin icon on the date header to set your location with. When choosing Set a schedule the Settings dialog box opens to the updated Work hours screen which now includes location and you can pick from Office or Remote for each day which has scheduled working hours.  For more information including setting a schedule for your working location see Hybrid Work Settings in Outlook – Sara Fennah's Blog (m365train.co.uk) 
New Outlook for Windows
Activated with the Try the new Outlook toggle, New Outlook is part of the drive to give us the same features across web, mobile, windows and mac.  It is a lighter weight tool, taking less resource on your PC, is much faster and offers features which have been web only on PC such as declining meeting requests during Out of Office periods, hiding attendee lists in meeting invites and others.  For more details see: Getting started with the new Outlook for Windows – Microsoft Support.  There is no published date for when New Outlook will replace classic Outlook for windows as yet. 
Microsoft Teams
Collaborative Notes & Agenda
Set up your agenda and meeting notes in advance and capture tasks with a Microsoft Loop component embedded into the meeting invite.  These loop files are stored in the OneDrive of the meeting organiser in a folder called Meetings and accessible to all internal meeting attendees.  Microsoft Loop does not currently support external sharing. 
During the meeting, use the Notes pane to contribute to the notes, and tasks list. 
Tasks assigned to users show up in their Microsoft To Do list under Assigned to Me and each meeting has its own planner plan created.
Selected animated backgrounds supplied by Microsoft are now available.  Custom animated backgrounds will follow. If you caught the webinar or the recording you'll see the video of just how subtle the animations are. 
New Channels Layout
New Channels layout has an information pane on the right hand side, which showcases the members of the team (or channel for private/shared channels), pinned messages and historyof changes in the channel/team.  You can also manage the channel from … at the top of the channel info pane. 
Messages are pinned in the same way as previously using the … menu on the message itself. 
Opening the full conversation switches you to a new conversation view, for those more involved threads.  From here you use the Go to channel to return. 
The biggest change is that newer messages are now at the top and you scroll down to see older messages. 

Newly created Teams are now using a Notes tab rather than a Wiki. This leverages the OneNote notebook created by default with every Microsoft Teams team to which all team members has edit access.
Intelligent Meeting Recap
This feature is part of the Teams Premium license. It is available on meeting organised by a user with a Teams Premium license, where the meeting is recorded and transcribed.
The recap is available from the Microsoft Teams Calendar entry for the meeting for all users in the same organisation as the meeting organiser. The summary can be copied to another document for wider sharing if required.
Rolling out currently and due for full availability by mid Sept. Tasks are currently only suggested but will be auto created in due course.
New Teams

– General Availability Date
Security, Defender, Purview, Compliance and Information Protection
Records Management Advanced Deployment Guide
Deployment guides for administrators help guide the configuration of features according to best practice.  A new advanced guide for data lifecycle and records management is available. 
Located in the Microsoft 365 Admin Center under Set Up, filter All guides for Microsoft Purview. 
With detailed guidance about planning, licences and configuration it guides you through the process of setting up retention and records management for Microsoft 365. 
Auto Labelling for Cloud Attachments
This update enables organizations to automatically apply retention labels to the version of files shared as cloud attachments, which are live links of SharePoint or OneDrive content that can be shared via emails, Teams, or Viva Engage messages.  
Includes links within the message body.  
Using an eDiscovery (Premium) search you can later find the exact version of the file shared in the message. 
Simulation Mode for Automatically Applied Retention Labels
Available as an option when creating label policies which include the automatic application of a label to content, the simulation mode allows the label to run and find content which would be labelled when the policy is active for you to review content in order to verify the policy settings.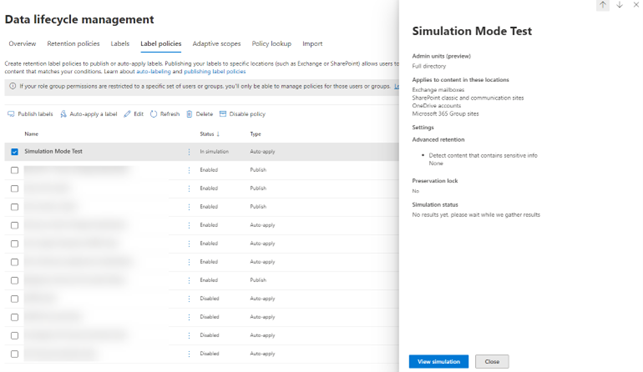 Disposition Review Auto-Approval
When creating a disposition review it is possible to set individual stages to automatically approve after a fixed period of time.  This will move the review to the next stage and can save unnecessary delays in deposition review process. 
E-Discovery support for Loop Components & Teams Video Clips
Now eDiscovery admins can review Loop components created in Outlook or Teams within eDiscovery (Premium) as rendered HTML files to help understand the content that has been created within the Loop component. Once the component has been reviewed, it can then be exported as an HTML file to meet the requirements of the case. 
Now eDiscovery admins collecting Teams video clips will see the teams video clip as a separate video recording file attached to the Teams conversation where it was shared. This will enable review and export as mp4 files to help admins better understand the content and context of the video clips. 
Retention for Teams System Generated Messages
Retention policies for Microsoft Teams are being extended to include system generated messages from Teams meetings. Up until now, only messages generated after October 2022 were supported for retention. This update extends coverage to messages created before October 2022, so that old and new are now supported in the same manner.  
SharePoint, Stream, Syntex & OneDrive
Timeline markers in Teams meeting recording for when a screen was shared
Visual markers on the video in Stream on the Teams meeting recording timelines indicate when a screen was shared in the meeting. The markers help you see who shared the screen at which moment, and to easily jump right to that part of the meeting. This feature is only available for customers who have purchased the Microsoft Teams Premium add-on. This is also true for the @ mention markers. 
Microsoft Lists – Applied Filters
As you add and adjust filters to narrow or expand what appears in the current list view, you'll now see which filters have been applied. And you can remove them without going back into the column filter pane. You do this now in the top-left portion of the list.  
New OneDrive Home Page
The updated Home page in OneDrive for web, not showcases recent documents and has the same style filter buttons as the Microsoft 365 Home page. 
InfoPath Retirement Announcement Taken from the Message Center
Message Summary
Industry trends and feedback from our customers and partners make it clear that today's businesses demand an intelligent, integrated forms experience that spans devices which InfoPath does not provide. As announced earlier, InfoPath Client 2013 will reach the end of its extended support period on July 14, 2026 (link), and to keep an aligned experience across Microsoft products, InfoPath Forms Service will be retired from SharePoint Online. We're sending this message to bring it to your early attention to minimize the potential impact on your organization. 
Key Points:
Major: Retirement

Timeline: Starting from July 14, 2026, Microsoft will remove InfoPath Forms Services for existing tenants.

Action: Review and assess impact
How this will affect your organization:
After July 14, 2026, users will no longer be able to use InfoPath forms in SharePoint Online. 
What you need to do to prepare:
To understand how InfoPath is used in your organization, you can run the Microsoft 365 Assessment tool  to scan the tenant for InfoPath usage. Using the Power BI InfoPath Report generated by the scanner tool, you can:
Identify all InfoPath Forms usage in the tenant, per site collection and site.

Evaluate the recency and volume of usage of InfoPath Forms.

Understand lists, libraries and content types that use InfoPath.
We recommend communicating to the impacted site owners/teams inside your organization now, so they are aware of the coming change.
For scenarios where InfoPath or InfoPath Forms services are currently being used, we recommend migrating to Power Apps, Power Automate or Forms. Please ensure that you allow adequate time for migration of any use of InfoPath/InfoPath Forms Services in your organization ahead of this date, as there is no migration tool provided. Additional instructions on how to migrate can be found in this blog. 
Please plan appropriately as there will not be an option to extend InfoPath Form Services beyond the InfoPath retirement date of July 14, 2026
Reminder:

Retirement of SharePoint 2013 Workflows in SharePoint Online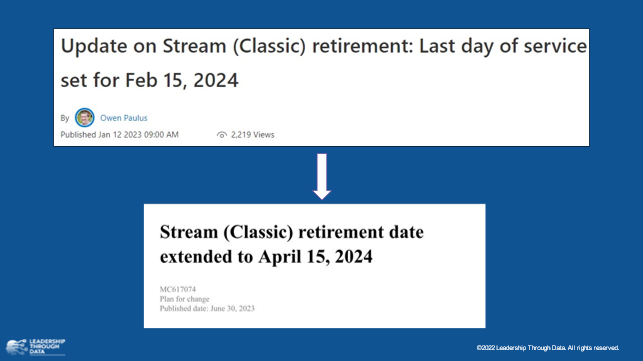 Feature to allow Viva connections mobile users to browse and reach SharePoint sites by surfacing their hub and site navigation in the Viva Connections app .  Now when a user taps a link from the Resources tab in the mobile app, the SharePoint site opens within the Teams mobile app.  The SharePoint mobile app still gives an experience more consistent with the desktop experience, but SharePoint designers should review their site in the Microsoft Teams app to give best possible frontline worker experience, if appropriate for the organisation. 
Viva Connections News Notifications
Mobile users of Viva Connections will receive a push notification from Teams when SharePoint news is published from sites they follow or visit frequently.  They'll also receive notification if they are @ mentioned in a comment on a news post, or if someone likes or comments on news they have published.  These notifications will honor Teams notification settings including fully disabling them and quiet hours.  
Viva Topics App in Teams
The native Viva Topics apps for Teams has been released and includes the new easy navigation to other Viva Apps, as well as the ability to access and manage topics from Microsoft Teams. 
The Viva Suite Navigation is also rolling out into the other Viva apps, here in Viva Insights.
Yammer to Viva Engage Rebranding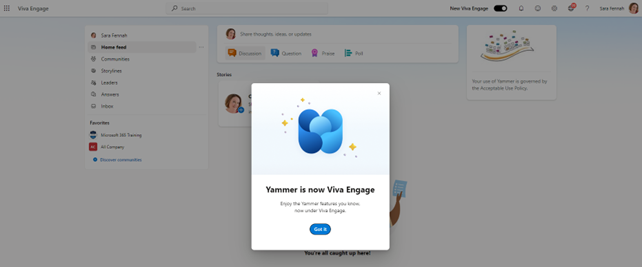 Yammer rebranding to Viva Engage is rolling out to the web interface, thus completing the rebrand.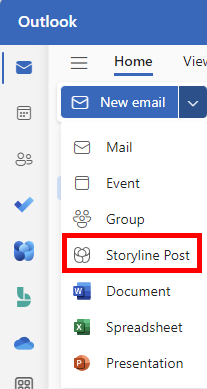 And did you know that you can also post on Viva Engage storyline (your personal feed) directly from New Outlook? 
Office 365
Authenticator Lite in Outlook Mobile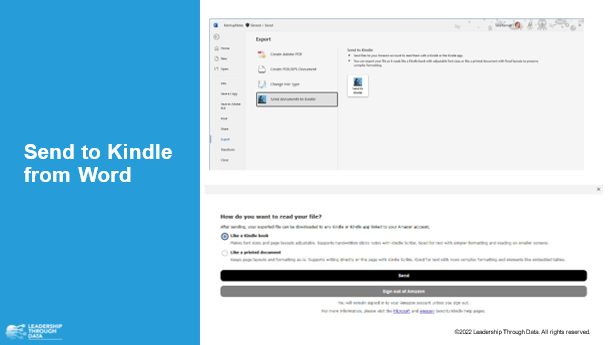 Send-to-Kindle feature allows users to export Microsoft Word documents to Amazon accounts and Kindle devices.  
Microsoft Edge Workspaces
A Microsoft Edge workspace can be used to share browser tabs incl documents with groups of colleagues or individuals, or simply to group your webpages together to open a collection of web pages in one go within their own window.  See https://support.microsoft.com/en-us/topic/getting-started-with-microsoft-edge-workspaces-63a5a6d7-3db4-468f-aba8-fdd00dce4c35 
Forms Presenter view
Present a form and get real time results live.  It's fantastic for pub quiz style socials as well as webinars and in person events.
Looking Forward
At the moment based on what is currently on the roadmap we hope to be able to show you these features next time. If you have any requests for features that you would like us to cover in the Ketchup or on the blog, please do let us know.
Outlook

New Outlook – Additional Features

New Sensitivity Bar in line with other Office apps

Enhancements to Reactions incl Disallow

Microsoft Teams

Frosted Glass Backgrounds

Hide Attendee Names in Webinars (Premium)

Meeting Participant Timezones

1000 Channels for Team

Security, Defender, Purview, Compliance and Information Protection

Identify Teams as data sources in eDiscovery (Premium)

eDiscovery Guest Reviewer

Use of Administration Units to Scope Retention & Records Labels

SharePoint, Stream, Syntex & OneDrive

New SharePoint Start Page

OneDrive Colored Folders

Automatic Transcription of Videos Uploaded

Create SharePoint Pages & News from Teams

Related Conversations Search in SharePoint

Microsoft Viva

Release of Pulse, Glint & Amplify

Verified Topics Badges

Configure Learning Resources Access by Security Group

Topics in Teams Channels & Outlook Desktop

Office 365 & Associated Apps

Organisation Fonts in PowerPoint for Windows, Mac & Mobile

Customise App Bar
The next big thing is still AI productivity assistant called Copilot. As yet, no more details have been released publicly about availability. Though we hope this will be clearer by our next Ketchup. To learn more about that announcement see https://m365train.co.uk/2023/03/17/what-are-copilot-and-business-chat-announced-at-the-reinventing-productivity-with-ai-event/