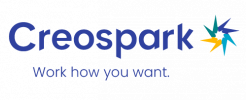 Imagine an IT partner that cares about you
Creospark was founded from a dream to create a different company; one that cares about others. Their expertise stands for helping businesses of any size adapt their business processes now so they're ready to adjust to changing technologies.
They're here to help businesses understand, adopt and love their technology.​
Creospark hope to empower businesses to work how they want to. Whether that is in a physical office, or together in the cloud, they think the only thing harder than transformation is failing to transform. The business landscape is changing. Situations out of anyone's control have accelerated the need for better collaboration, better employee engagement and more human communications. Digital transformation starts with your people, your business, and your processes, in that order. Creospark want to empower businesses to increase their employee experience while going digital at their own pace.
Microsoft Solution Partner certified professionals and Microsoft MVPs on staff
Experts in working with a people first mindset
Recognized members of invite only Microsoft Content Services and Business Applications Programs
Catered adoption, change management and training programs for your needs
How they can help
Modern Work – They will help you migrate to the cloud so you can work from anywhere in a hybrid office. They do this through Microsoft 365 technologies like Microsoft Teams, Viva, OneDrive and SharePoint while premised on all of the important underlying Azure cloud technologies.
Process Transformation – They also support your drive to go digital with process transformation and forms and workflow automation, developing apps and portals, bots and virtual agents and leveraging artificial intelligence & machine learning to get rid of unnecessary tasks. This is done through the Microsoft Power Platform, using low-code or no-code technology, which is accessible to your team and easy to customize.
Secure Cloud – All this is nothing if they don't make sure you can work safely in a secure cloud that includes the devices you use to work, whether they are mobile or not. Creospark believe identity, compliance and security are the cornerstone of a good IT. Their goal is to transform your workplace into a collaborative environment for your people to work better, faster, and smarter.