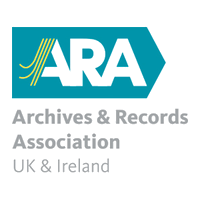 Archives & Records Association (ARA)
The Archives & Records Association (ARA) is the leading professional body in the UK & Ireland for the record-keeping sector. They welcome all with an interest in archives, records management and conserving records to join them and drive the sector forward.
The ARA was created to ensure that archives and records were properly looked after and preserved for posterity and that all those working hard on this task received the proper training and support to do so.
They work to provide the broadest and most coherent voice on all matters relating to the record-keeping sector and aim to broaden the care, management, access and use of records and archives by everyone. ARA embrace all those working in archives, records management, archive conservation, archive learning, research and outreach as well as anyone in the wider community with an interest in records and archives including users, owners and volunteers.
Join the Community
ARA are a membership organisation and as a member you get access to a range of great benefits. They're also here to support the sector as a whole and encourage more of you to come on board and join in the conversation.